Home Automation Page
My Overview
Home Automation is a wonderful hobby. Once getting started with this technology, you'll find that you want to automate more and more. I'm a DIY'er (do-it-yourselfer) who pretty much taught myself everything I know when I installed my system. Having a basic working knowledge of electronics (low voltage) and networking is key to learning and understanding how everything works. Having a good computer background is essential as well when it comes to programming devices.
While home automation is great; it's unfortunate that it won't be mainstream. Why do I feel this way? Having a custom-installed home automation system from a professional installed can cost THOUSANDS of dollars. Sure, you can throw in a basic X10 system to control lights for under $100, but the advanced logic and control isn't there. In a country where a builders bottom line is "cheap"; it's unlikely any standard homes will come with the convenience of home automation. Not only that, but continued support and modifications to a system can add up to thousands of dollars a year. Luckily the total cost of my system was mainly in parts; all the labor was done by myself. I have spent hundreds of hours a year on automation, if I had to hire a company to do all the work I did, it would have cost me thousands of dollars just in labor and support.
If you have the talent, I highly recommend venturing out and experimenting. It has grown to be such a huge industry that you'll find your only limited by your imagination and not the technology. I recommend scouring the internet to learn more, there are great sites out there for learning, installing and troubleshooting.
Preparation
When wiring your house for home automation, it's nearly impossible to know what you will be automating. As you get more entrenched in different home automation projects, you might realize that you need more then you have. I tried to predict as much as I could, so I wired the house for a variety of technologies including:
Telephones
Cable TV/Video
Ethernet Network/Internet
Security (Door Sensors, Motion Sensors, Glass Break Sensors, etc)
Power Door Locks (remote keyless entry)
Remote Garage Door Control
Whole-House Intercom/Audio (M&S Systems)
Outdoor speakers
Video Projection (Home Theatre)
Pool Monitoring Control
Thermostats/Temperature Control
Security Cameras

The key to wiring is to make sure that if you need extra wire runs in the future, you can do them somewhat easily. I'm not a big fan of wireless technologies; too many problems with interference, batteries, and signal strength. I prefer hard-wired connections! In total, I ran approximately 2 miles of cables (over 10,000 feet) of cable in my home. A lot of the cables are not in use, but they are there "just in case" I need to use them in the future. Trying to run cable after all the walls are finished can be a nightmare if you don't have easy access to route them inside the walls!
I made multiple runs to each room of the house which consisted of:
| | |
| --- | --- |
| CAT6 Network Cable | Ethernet Network Access |
| CAT5 Network Cable | Telephones |
| CAT5e Network Cable | Expansion use (Audio/Video Signals, Infrared, Serial Control, etc) |
| RG6 QuadShield Coax Cable | Video Up/Down Feeds |
| Shielded 4 Conductor | Infrared, Microphones, Speakers |
I had the convenience of wiring my house while it was being constructed, so it made the job a lot easier. If you have to wire in an already constructed home, it can be a nightmare trying to run wires without making a mess. The most important thing you can do is to pick a central location for wiring all the components to. Whether it's in your garage, basement, or attic, just make sure you have easy access to add new cables or modules if you need to down the road.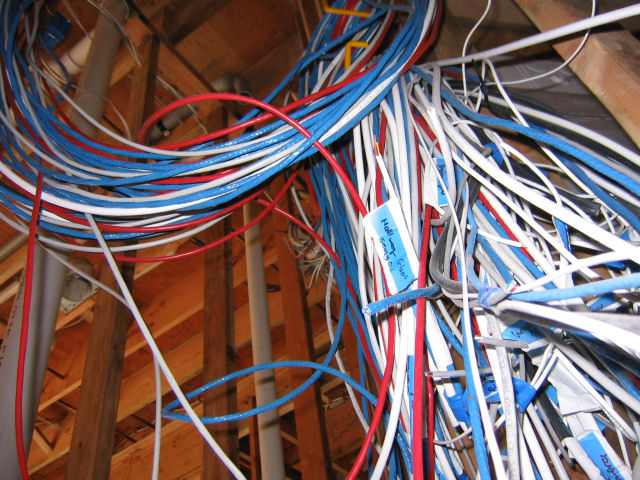 Here's a picture of all the wires terminated in the wiring closet.
The "brains" of my system is HAI's great OmniPro II system. This system is very customizable and handles general security, home automation, temperature control, etc. Using the Web-Link software, you can control your entire home from any house telephone, or even from web-page on a PocketPC!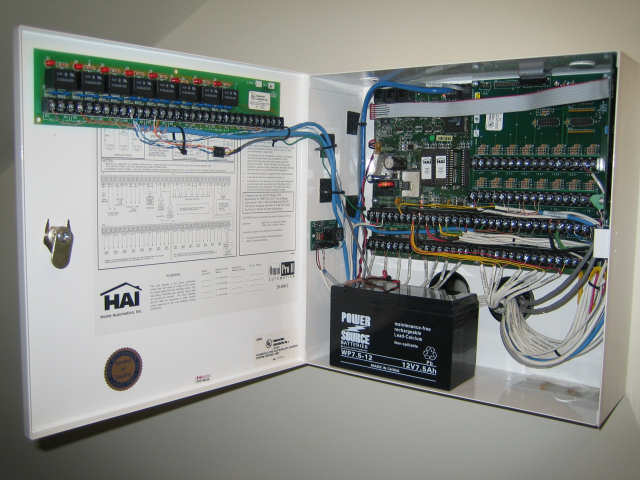 This is the HAI OmniPro panel with an expansion module, and the 8-port relay module mounted on the door.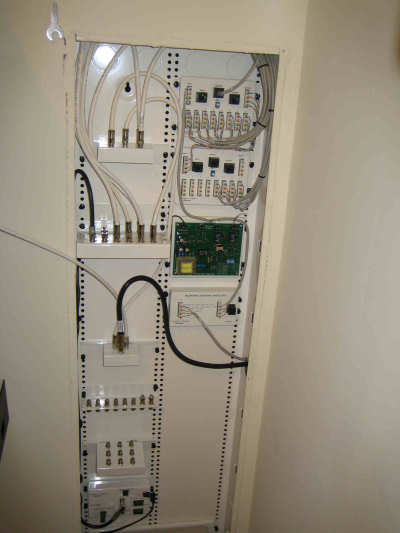 Video & Telephone Distribution using Channel Vision Products

The system is VERY customizable and contains a way for you to create programs/macros to perform tasks based on events, time of day, etc. My system is also hooked up with the two-way voice module which is great for making announcements (ie: Tuesday & Friday are trash days).
My current setup is:
HAI OmniPro II Home Automation Controller
HAI 16-port zone expansion module
HAI 2-way voice communication module
Applied Digital Ocelot (Infrared Controller)
HAI RC-80 Thermostats (8 zones total)
Leviton DHC & X10 Switches & Modules
HAI OmniPro II Home Automation Controller - Model #110315


I also included one zone expansion unit, and the 8-relay module for some automation tasks.

HAI OmniPro LCD Consoles located throughout the house. I have 4 of these located in main hallways for easy access. The system can support a ridiculous number of consoles, so it's doubtful that you will hit the limit!
HAI OmniState RC-80 Thermostats for temperature control. I have 8 total zones (mixed heat/cool) for baseboard heat, radiant heat, and central air conditioning. These units are nice because you can even monitor the temperature of different rooms using the Web software.

I also have a remote temperature sensor module installed outdoors.
For general home automation control, I stuck with the X10 technology. I highly recommend the Leviton DHC/X10 True-Rocker decora style switches. They are more expensive then standard X10 branded modules, but they quality of the switches is 100 times better. They do not have a mushy feeling to them.
I purchased all of my home automation products from the following online retailers:
SMARTHOME.COM - They carry the full HAI line and just about every other Home Automation product designed! They have a great selection of Leviton X10 modules.
X10.COM
- X10 modules (appliance modules, wall switches, etc).
AntiCost.com - Deals & Coupons site; they occasionally have SmartHome coupons which are hard to come by!
---
---